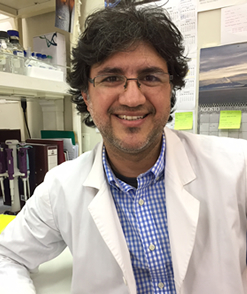 Bredford Kerr nació en la ciudad de Antofagasta en el año 1975. Realizó sus estudios de enseñanza básica y media en las ciudades de Antofagasta y Arica. En el año 1994 ingresó a estudiar Licenciatura en Ciencias Biológicas en la Pontificia Universidad Católica de Chile, grado que obtuvo en el año 1999. En el año 2000 ingresó al programa de doctorado de la facultad de Ciencias Biológicas de esta misma casa de estudios, obteniendo en grado académico de Dr. En Ciencia Biológicas con mención en Ciencias Fisiológicas en el año 2004. Entre los años 2004 y 2007 realizó un postdoctorado en neuroendocrinología en la Oregon Health and Science University, Oregon, USA, financiado por una beca de la fundación Fogarty International/NIH. En el año 2007 regresó a Chile para integrarse al Centro de Estudios Científicos, inicialmente como investigador postdoctoral en el laboratorio del Dr. Juan Young, grupo que integró hasta el año 2009, cuando comenzó a liderar su propio grupo de trabajo para entender la interacción genoma-ambiente y su impacto sobre la función del sistema nervioso central y la comunicación neuroendocrina. El principal foco de estudio del Dr. Kerr en los últimos años ha estado en la que regulación epigenética del balance energético corporal, evaluando el efecto de factores ambientales sobre el balance energético durante la adultez y en la programación neuroendocrina durante etapas tempranas del desarrollo.
Las herramientas de trabajo utilizadas por su grupo incluyen técnicas de biología celular/molecular, fisiología, pruebas conductuales, modelos murinos de disrupción epigenética y la generación de ratones genéticamente modificados para cambiar de manera condicional la expresión de genes. Las principales líneas de investigación actualmente en desarrollo son:
- Contribución de distintas poblaciones neuronales hipotalámicas al control del balance energético corporal.
- Identificación de un sistema de retroalimentación epigenético en el control de la ingesta de comida y el gasto de energía - Alteraciones neuroendocrinológicas en modelos murinos de disrupción epigenética.
- Identificación de factores ambientales capaces de atenuar la progresión de patologías del neurodesarrollo.
PUBLICACIONES SELECCIONADAS
24. Kerr B, Ríos M, Droguett K, Villalón M. Nitric oxide activation by progesterone suppresses ATP-induced ciliary activity in oviductal ciliated cells (2018). Reproduction, Fertility and Development. Article in Press

23. Kerr B, Leiva A, Farías M, Contreras-Duarte S, Toledo F, Stolzenbach F, Silva L, Sobrevía L. Foetoplacental epigenetic changes associated with maternal metabolic dysfunction (2018) Placenta (Review) S0143-4004 (18) 30148-6.

22. Ávalos Y, Kerr B, Maliqueo M and Dorfman M. Cell and molecular mechanisms behind diet-induced hypothalamic inflammation and obesity (2018) J Neuroendocrinol. (Review) (Epub ahead of print) e12598.

21. Torres RF, Hidalgo C and Kerr B. Mecp2 Mediates Experience-Dependent Transcriptional Upregulation of Ryanodine Receptor Type-3 (2017) Fron Mol Neurosci. 10:188

20. Rios M, Carreño DV, Oses C, Barrera N, Kerr B and Villalón M. Low physiological levels of prostaglandins E2 and F2α improve human sperm functions (2016) Reprod Fertil Dev. 28(4):434-9.

19. Martinez G, Vidal RL, Mardonez P, Serrano FG, Ardiles AO, Wirth C, Valdés P, Thielen P, Schneider BL, Kerr B, Valdés JL, Palacios AG, Inestrosa NC, Glimcher LH and Hetz C. Regulation of memory formation by the transcription factor XBP1 (2016) Cell Reports, 14(6):1382-94

18. Oñate M, Catenaccio A, Martinez G, Armentano D, Parson G, Kerr B, Hetz C and Court F. Activation of the unfolded protein response promotes axonal regeneration after peripheral nerve injury (2016) Scientific Reports, 6:21709

17. Castillo V, Oñate M, Woehlbier U, Rozas P, Andreu C, Medinas D, Valdés P, Osorio F, Mercado G, Vidal RL, Kerr B, Court FA and Hetz C. Functional Role of the Disulfide Isomerase ERp57 in Axonal Regeneration (2015) PLoS One 10 (9): e0140200.

16. Marchant V, Droguett A, Valderrama G, Burgos ME, Carpio D, Kerr B, Ruiz-Ortega M, Egido J and Mezzano S. Tubular Overexpression of Gremlin in Transgenic Mice Aggravates Renal Damage in Diabetic Nephropathy (2015). American Journal Physiology Renal Physiology 309 (6):F559-68.

15. Torres-Andrade R, Moldenhauer R, Gutierrez-Bertín N, Soto-Covasich J, Mancilla-Medina C, Ehrenfeld C, and Kerr B. The absence of Mecp2 induces an increase in body weight associated with altered leptin signalling in the hypothalamus (2014). Experimental Physiology 99(9):1229-40.

14. Droguett MA, Krall P, Burgos ME, Valderrama G, Carpio D, Ardiles L, Rodriguez-Diez R, Kerr B, Walz K, Ruiz-Ortega M, Egido J and Mezzano S. Tubular overexpression of Gremlin induces renal damage susceptibility in mice (2014). PloS One 9(7):e101879.

13. Dorfman M, García-Rudaz C, Aderman Z, Kerr B, Lomniczi A, Dissen G, Castellano JM, García-Galeano D, Gaytan F, Xu B, Tena-Sempere M and Ojeda SR. Loss of Ntrk2/Kiss1r signaling in oocytes causes premature ovarian failure (2014). Endocrinology 155(8):3098-111.

12. Kerr B, Soto-Covasich J, Saez MA, Abrams A, Walz K and Young JI. (2012) Transgenic complementation of MeCP2 deficiency: phenotypic rescue of Mecp2-null mice by isoform-specific transgenes. Eur J Hum Genet 20(1):60-76.

11. Dorfman MD*, Kerr B*, Garcia-Rudaz C, Paredes AH, Dissen GA, Ojeda SR (2011) Neurotrophins Acting Via TRKB Receptors Activate the JAGGED1-NOTCH2 Cell-Cell Communication Pathway to Facilitate Early Ovarian Development. Endocrinology 152(12):5005-16. * Both authors contributed equally to this work.

10. Kerr B., Silva PA., Walz K. and Young JI. (2010) Unconventional transcriptional response to environmental enrichment in a mouse model of Rett syndrome. Plos One. 5(7):e11534-41.

9. Kerr B., Garcia-Rudaz C., Paredes A. and Ojeda SR. (2009) NTRK1 and NTRK2 receptors facilitate follicle assembly and early follicular development in the mouse ovary. Reproduction 138(1):131-40.

8. Kerr B., Alvarez-Saavedra M., Sáez MA., Saona A. and Young JI. (2008) Defective body weight regulation, motor control and abnormal social interactions in Mecp2 hypomorphic mice. Hum Mol Genet. 17:1707-17.

7. De la Chesnaye E., Kerr B., Paredes A., Merchant-Larios H., Mendez JP and Ojeda SR (2007) Mouse ovary.Fbxw15/Fbxo12J is an F-box protein-encoding gene selectively expressed in oocytes of the mouse ovary. Biol Reprod. 78:714-25.

6. Luna F., Garcia-Rudaz C., Tapia V., Kerr B., Colgin L, Galimi F., Dissen GA., Ojeda SR. (2007) Fxna, a novel gene differentially expressed in the rat ovary at the time of folliculogenesis, is required for normal ovarian histogenesis. Development 134: 945-57

5. Do T., Kerr B., Kuzhikandathil EV. (2007) Brain Derived Neurotrophic Factor regulates expression of D1 dopamine receptor. J. Neuroch. 100:416-28.

4. Salas C., Julio-Pieper M., Valladares M., Pommer R., Vega M., Mastronardi C., Kerr B., Ojeda SR., Lara HE., Romero C. (2006) Nerve-Growth Factor-dependent activation of TrkA receptors in the human ovary results in synthesis of FSH receptors and estrogen secretion. J Clin Endocrinol Metab. 91:2396-2403.

3. Paredes A., Garcia-Rudaz C., Kerr B., Tapia V., Dissen GA., Costa ME., Cornea A., Ojeda SR. (2005) Loss of SCP1, a synaptonemal complex protein, contributes to the initiation of follicular assambly in the developing rat ovary. Endocrinol. 146: 5267-5277.

2. Morales P., Pizarro E., Kong M., Kerr B., Ceric F., Vigil P. (2000) Gonadotropin-releasing hormone-stimulated sperm binding to the human zona is mediated by a calcium influx. Biol Reprod 63:635-642.

1. Morales P., Kerr B., Oliva C. Pizarro E., Kong M. (1999) Gonadotropin-releasing hormone antagonist inhibit sperm binding to the human zona pellucida. Hum Reprod. 14:2069-2074.