December 24th, 2014. Once we had descended yesterday via the Hewitt Path and were preparing to sleep at around midnight, we received a last-minute call via satellite phone with some news from the Union Glacier base camp. The Ilyushin IL76 flight, originally programmed for Dec. 23rd, had not taken off, because the passengers who had made reservations had postponed the flight until Dec. 24th.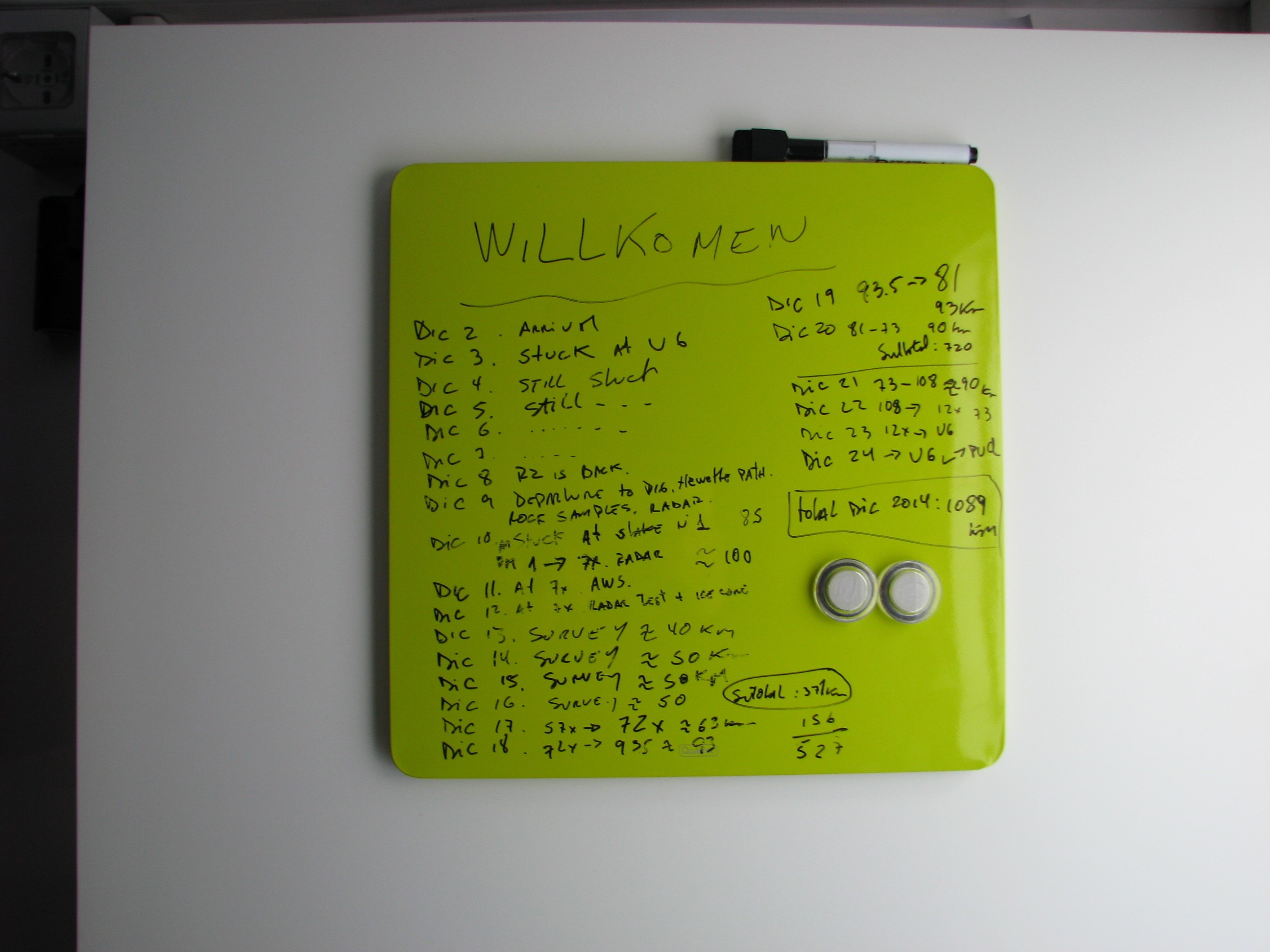 This plane was carrying some twenty or so Russians, who wished to make an exclusive flight over the Antarctic, to visit Mount Vinson and Union Glacier, together with several other nearby attractions and to call the Russian President, Putin, by phone, from the continent. This meant that if we hurried to get back to the Union base camp, we might leave the Antarctic on Christmas Eve and not on Dec. 29th as planned. We were not actually in a rush to leave, but given that we had completed all planned measurements, all we had left to do was to uninstall pieces of equipment, such that the remainder of our stay would only be spent waiting for the next IL76 flight. Faced with this opportunity, Chris and Tom proposed they drive the convoy throughout the night to arrive ahead of the flight. We decided this was worth trying, so instead of going to sleep that night, we continued on, uninstalling our equipment at the same time, in preparation for evacuation.
After some 6 hours on the move, we reached Union Glacier base camp, where everyone was asleep. ALE personnel had celebrated Christmas the previous night on learning of the flight date change. In the hope that we would be home in Valdivia for Christmas, we hurried to uninstall all equipment, which we managed to do by midday. We lunched with the complete ALE team, climbers, logistics and management staff, in the main tent, where we said our goodbyes and thanked them for the great work done. Lunch was phenomenal, as usual, with an abundance of varied salads, salmon and other things that are delicacies at these latitudes. We then began to pack our personal equipment and were ready to leave for the blue-ice runway by 15:00 hrs, when we heard the plane approaching and landing safely in the distance.
The magical coincidence of events that permitted us to leave Antarctica on such a special day was thrilling. So, with everything stored away and tidy on the CECs1 module, we left for the runway to board the flight. The six-wheel truck drive takes about 10 mins to reach the runway. Once there we had to wait until all cargo, including our own equipment was stowed away on board, after which we ourselves were able to board the plane at 16:30, with "Sacha", the cargo master, giving us the customary welcome aboard. Sacha and other crew member companions are ex-members of the Russian Armed Forces who now work for a private cargo flight company. They pilot these types of huge cargo planes from the late 60's, which can carry two tractors and more than 30 tons of cargo, and which served in the Warsaw Pact air forces in the Cold War. It's fascinating to fly in these planes because although on the outside the Soviet constructivist aspect is apparent, on the inside, everything is fairly crude. There are only 4 hatches and thousands of cables that cloud visibility of the fuselage. Two tackles are mounted on the fuselage roof rails, each one of which can lift a weight of 2.5 tons.
The crewmembers are burly chaps, they don't smile much, but are very amiable. They offer sandwiches and drinks but don't allow anyone into the cockpit. Their own humble sausage-with-bread seems to demonstrate the down-to-earth nature of their work. We preferred to sleep after so many hours without rest. The only new device in the cockpit is a huge screen on which you can see what is being filmed with a camera located on the nose of the aircraft (the bomb bay). The rear of the plane holds only cargo, mainly empty drums, rubbish and equipment that must be removed from Antarctica. In compliance with requirements of the Madrid Protocol, all rubbish generated in Antarctica must leave the continent, such that faeces, plastics, cardboard and general organic rubbish must be removed, so we will leave in the IL76 with all of our associated subproducts.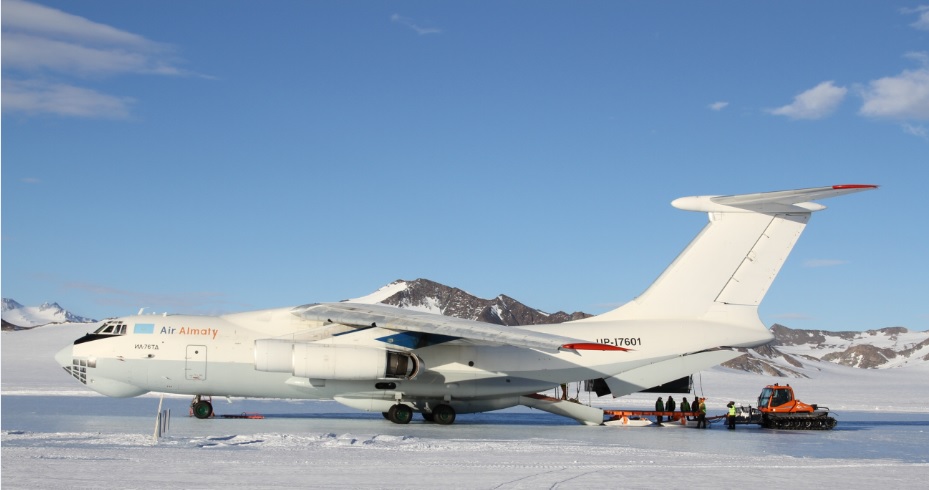 There are no special comforts on board. In their former state, these planes didn't even have seats, though they do now, and even include seatbelts. The bathroom is a tiny room containing a chemical bin, for liquids only. Crew instructions are given in rather rustic English, including a basic demonstration. Just as we had fastened our seatbelts however, we were informed that the flight would be delayed by at least an hour because of unfavourable wind conditions in Punta Arenas (high winds, in bursts, which make landing difficult). Our departure was once again in doubt, but after approximately 50 minutes, the go-ahead was given and we prepared for take-off. With the 4 engines revving to maximum acceleration, the noise was deafening. The aircraft brakes were released and with one large push the plane began to run over the ice, until after having covered some 600-800 m, it rose very loudly into the air.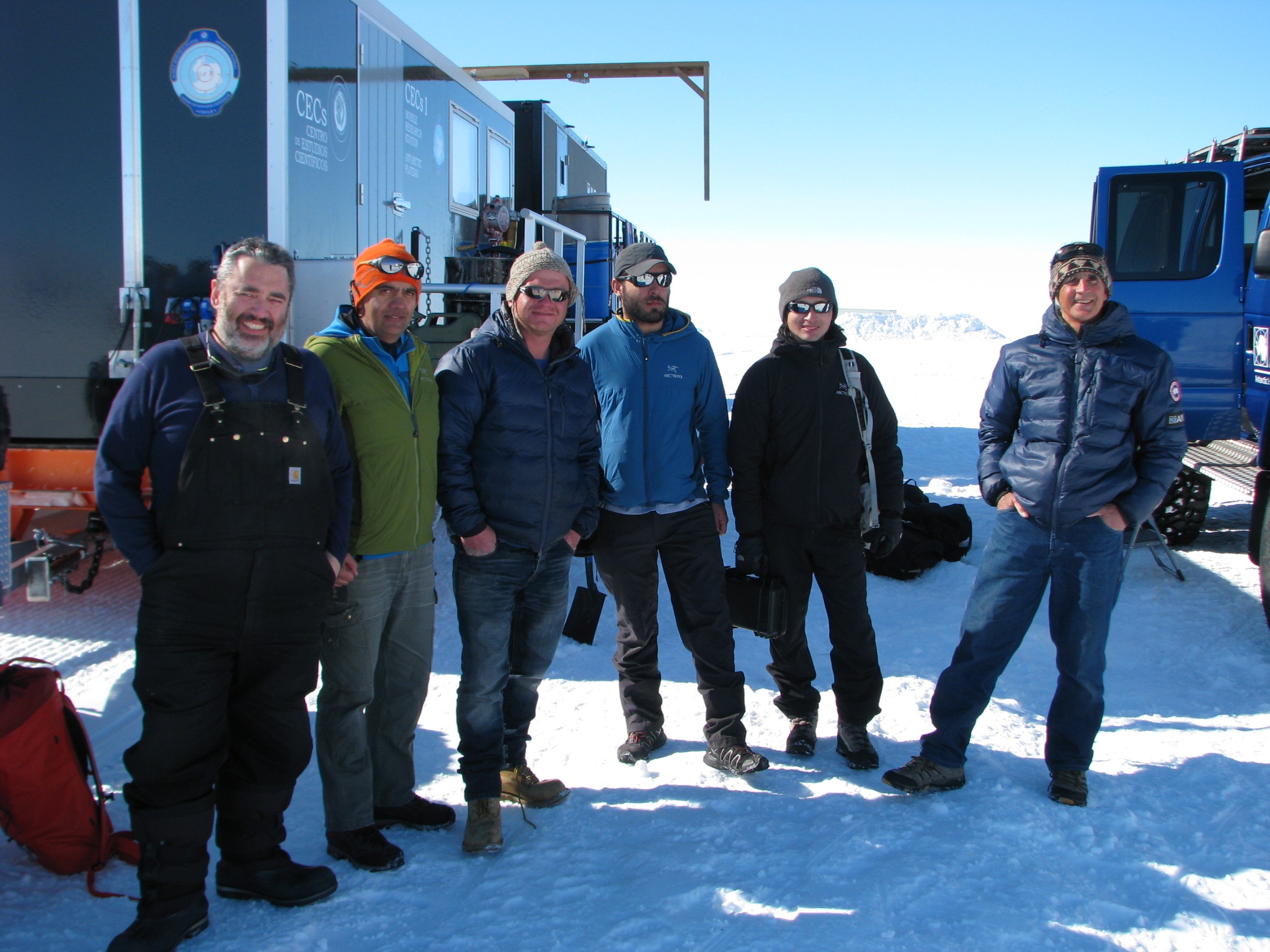 It was very moving to be leaving the continent after another successful campaign. We know we'll return again and that our fellow ALE companions and the secrets of the ice will be waiting for us. We'll miss the cold, but we're also keen to get back to Valdivia to share our story. After a short flight of a few hours, we land in Punta Arenas at 22:30 hrs.
Dusk had not quite fallen, but there was no-one out and about in the streets. Everyone was preparing their Christmas celebrations, lights were to be seen glistening in windows, trees were heavy with decorations and some cars were still rushing about trying to get home before midnight. We would have to spend the night in a hotel, but we'd be back in Valdivia on Christmas Day. A new Antarctic campaign, covering nearly 1090 km, with diverse and complex measurements undertaken, had been successfully completed.