December 22nd, 2014. We have begun our return to ALE's Union Glacier base from the main continental divide in West Antarctica, between the Institute and Pine Island Glaciers, which drain into the Weddell and Amundsen Seas respectively. Today we also measured the last beacons we installed in this area last year. A total of 12 beacons were installed in January 2014 to measure speeds and mass balance of the ice. The beacons are 2 m long aluminium tubes, in some cases joined by couplets to extend their length to 4 m.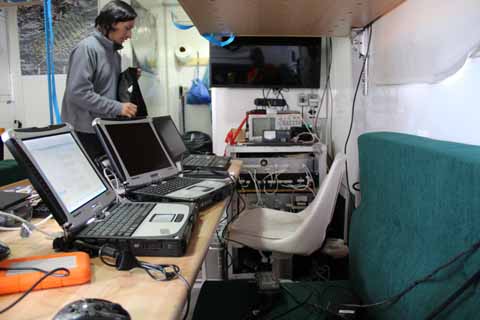 All of the beacons were found to be in good shape, confirmation of the good quality of the material we are using. At each beacon we measured the density of the surface of the snow mantle in grams per cubic centimetre (gr/cc), with a tube that was buried at 10 cm depths to a total depth of 40 cm. These densities allow us to convert the snow accumulation detected by the point mass balance into units of centimetre water equivalents per year (cm/a). Snow densities showed little changes in depth (less than 5%), with absolute maximum values of 0.41 gr/cc to 0.36 gr/cc. The average density taken from all beacons was 0.38 gr/cc, a typical value for snow densified by wind. On multiplying the snow densities obtained for each beacon by the value accumulated over the period, we obtained an average mass balance of 0.23 cm/a.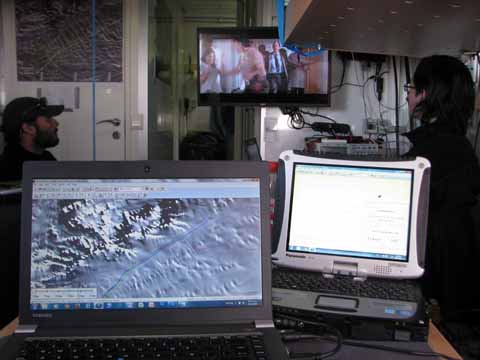 The other pieces of equipment and measurement systems functioned well, giving us very relevant data that revealed large differences in conditions of the rocky bottom of the region, showing areas with water, other areas that are probably sediments and finally some sectors in which radar return signals were unclear, either because of slopes or low reflectivity. Anyway, viewing the on-screen radargrams is to see a whole new world, unexplored, complex and difficult to understand. We will have to use the best of our abilities to process and interpret everything we have found up to now. Weather conditions deteriorated a little, with the wind increasing to 43 km/hr and with very low apparent outdoor temps., so that keeping well wrapped and warm was essential for being outside the CECs1 station.
At night (just an expression, as we are in a region which has 24 hours of sunlight at this time of year) we ate burgers at about 23:00 hrs. Then we had hot showers in support units of CECs1, ready to go to bed and sleep like angels. This too, is just an expression, as one of the team members 'snores' like a futre, not letting others sleep and generating a certain irritability in the poor sleepwalkers who cannot get to sleep or because their dreams evoke firewood and not their loved ones who await them back home. His identity will be declassified if he survives the onslaught of his victims.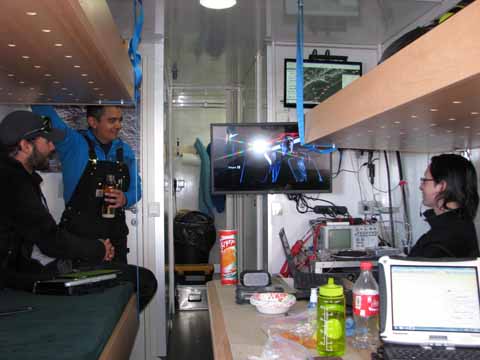 To combat these little dream-sleep complexities, we decided to begin watching the 'Terminator' film trilogy in the CECs1 cinemascope, which is providing us with lots of material to face the aforenamed individual.