December 20th 2014. The day greeted us with clear skies and no wind, making it possible to predict a good day's work. Our day began early and all systems functioned well until 21:00 hrs, when we had covered almost 90 km. At this hour, a relatively monotonous day spent taking measurements suddenly turned into an unusual one, with Chris ringing us insistently, telling us to get off the CECs1 station.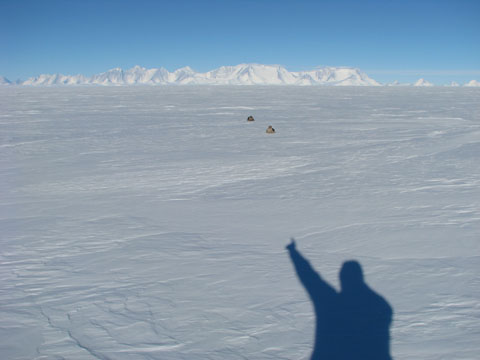 To start with, we thought there must be a problem with the convoy and we requested that the tractor stop. Getting down from our module, we realised that this was not a problem, but that there were two skuas flying above us. It must be understood that since leaving Punta Arenas, 20 days ago, we had seen no living being apart from the people at Union Glacier, although many around here seem rather humanoid...(just joking).
Anyway, these two birds must have flown in from the Weddell Sea, a distance of some 800 km northeast of our current position, and they were, very probably, on their way to the Amundsen Sea, some 700 km to the northwest. The implication was that these birds would be covering at least 1500 km, with nothing to eat or drink, which seemed amazing to us. How many days would their crossing take? If wind direction and speed are optimal, they might manage it in some 4-5 days, but if they come up against bad weather conditions or if there are no winds, it may take them more than a week to complete their crossing.
According to Tom, who works for ALE as a mountain guide and knows about such matters, these birds can survive for up to a week without eating, so the crossing they are making does not seem so crazy. Still, it was amazing for us to see ocean birds so far from the sea and in the middle of the Antarctic Shelf where there is not even a rock to stand on. We think they were flying over us probably because we must have looked like a large animal, a whale perhaps, moving within the white plain.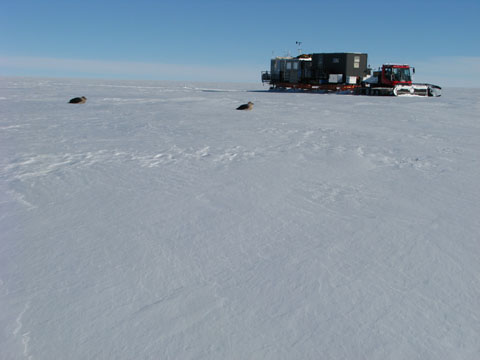 The two birds did stop with us, and let us take photos and videos and after several minutes, once we had resumed our trek, they took off and continued on their way, following some pre-programmed route, not with GPS for sure, but perhaps by magnetic or solar orientation, or simply at random (apologies for the lucubration, but we are not ornithologists). It is not the first time we see birds on the Antarctic Shelf; we saw a skua at Lake Ellsworth in the year 2010 and another bird, probably a petrel, at Patriot Hills 10 years ago.
Finally, the day came to a close after having taken measurements over a total of 91 km, with numerous stops for static measurements and beacon checks. Dinner tonight was lasagne with spicy sausage and an after-dinner shot of whisky, given that it was a Saturday night, as well as to celebrate our flying visitors.