December 17th 2014. It was a beautiful day today, with lots of sunshine, very little wind, temperatures of -21 °C and with a very pleasant apparent outdoor temperature. We left early, northwards, towards an area that we had measured partially last summer and where we had left some beacons to determine mass balance and speed of the ice.
It was exciting to be approaching one of these beacons. Had the beacon survived the winter? Had it become covered in snow? The first that we visited had been left there 332 days ago, sitting at a height of 169 cm above the surface. As we got closer, we got out onto the external platform of the CECs1 module, though in our enthusiasm a shovel fell off, into the snow, so we had to stop the convoy to pick it up again.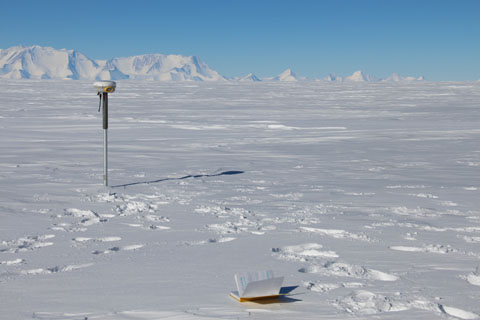 Once underway again, we eagerly sought out the horizon, but saw nothing. Just as we were losing hope of finding the beacon, some 250 m ahead we did see something that looked like one. So we continued forward and found that indeed it was and that it was in good shape, positioned 122 cm above the surface.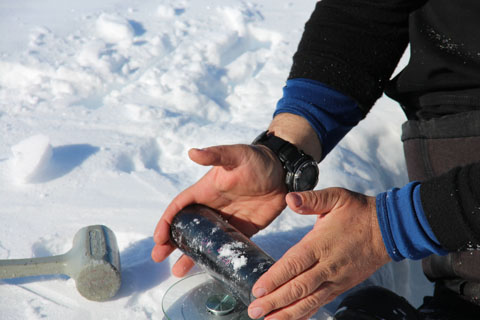 We measured densities at several depths, using this data to calculate that the snow accumulation at this site has a water equivalent of 19 cm per year. This figure is not surprising, given the dry nature of this Antarctic region. We found all of the beacons that were on our route that day, enabling us to take snow accumulation measurements at all of them (averaging a water equivalent of 22 cm per year). We installed several new beacons and measured with radar and GPS safely and without difficulties.
Today we covered around 73 km. And had chicken and vegetables for dinner tonight.