December 16th 2014. We woke up to clear skies, bright sunshine and good wind conditions today, good weather after 5 days of bad weather. Thanks to this, a Twin Otter was able to visit, landing beside our convoy while we continued with our daily measurements.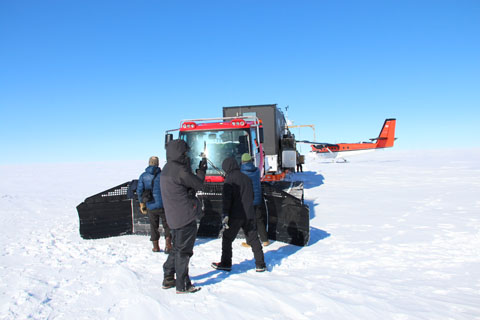 The plane was piloted by Russ, an old acquaintance of ours. Landing these planes on ice seems easy, but it requires much skill to avoid crashing the landing skis against sustrugies (snow dunes), or sinking too deeply into fresh snow. In general, these planes perform a 'touch and go', with the landing skis marking the snow surface (without actually landing) and then they fly overhead to check snow conditions, particularly for possible irregularities or even to detect cracks.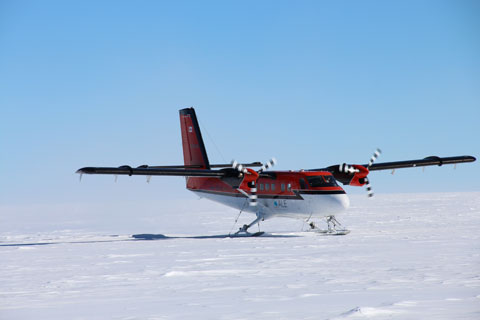 Russ has many years of experience, so he only needs to look at the snow surface to know whether he can land the plane or not. He must also check the wind strength and direction, another skill that comes with experience, as there is no meteorologist to hand over details of local weather conditions. This implies that the pilot must also know how to interpret the landforms in order to discover the predominant wind direction and to see if there is drifting snow. Taking all these factors into account, Russ landed quickly and confidently. From a distance, we saw that the plane swayed somewhat, but not enough for the wings to touch the snow.
The visit was short but very productive, as the plane arrived with some equipment, sent from Valdivia, together with some things considered luxuries at these latitudes, such as fresh bread, freshly baked cake, home-made biscuits and palta (avocado).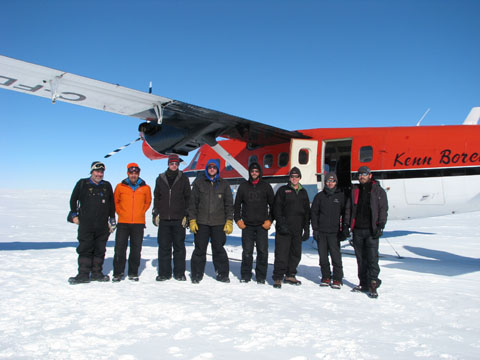 After taking the obligatory photos and joking around a bit, Russ and company continued on their way to Mount Vinson, located some 80 linear km northwards, to pick up several (about 10) climbers. They had been waiting several days for good weather conditions, for their evacuation, after successfully climbing (most of them) to the top of the highest peak in Antarctica.
Our team continued to work for the rest of the day, doing tests, installing 5 beacons and measuring maximum ice thicknesses of almost 2.7 km along a 50 km route. In the evening, we had enchiladas for dinner, with fresh palta and finished off Andy's birthday cake.