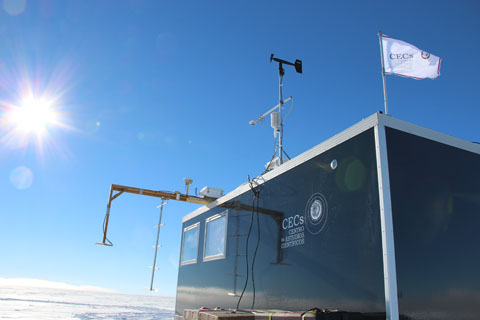 December 12, 2014. Today dawned cold (-28 ° C), with little rain and wind. From a distance, it was possible to see the Ellsworth Mountains, including a fantastic view of Mount Vinson, the highest in Antarctica. Several other nunatak peaks were seen in the distance, many of them appeared as rock pyramids.
In the morning we tested three types of radar while the convoy was travelling at different speeds along a route of about 15 km. Among the tests were included measurements with GPR system (Ground Penetrating Radar) that normally is used to detect cracks. No fractures or cracks were detected in these tests, which confirm that the route is safe. Then, once the installation of the weather station was finished, transmission tests were performed and confirmed with Valdivia that all sensors are transmitting properly.
In the afternoon a sample of snow and firn of 12,5 m of legth has been extracted with help of Chris and Tom ALE. Our type drill has worked perfectly and snow / firn segments were stored in a such way that they remained frozen until they were analyzed by Margit Schwikowski from the Paul Scherrer Institut (PSI) in Switzerland. Margit has worked with us for over 15 years, is a co-investigator of our project, and she is charged of glacial chemical analysis of snow samples.
The extracted sample shows an interesting densification curve, with values close to 0.38 g / cm3 at the surface up to 0.61 g / cm3 at the depth of 12.5 m. Many layers that indicate interannual fluctuations in the snowpack can be seen. It is estimated that in this area of Antarctica there is an annual accumulation of water of about 0.2 equivalent meters per year, so in the obtained sample, we should have caught at least 30 years of data.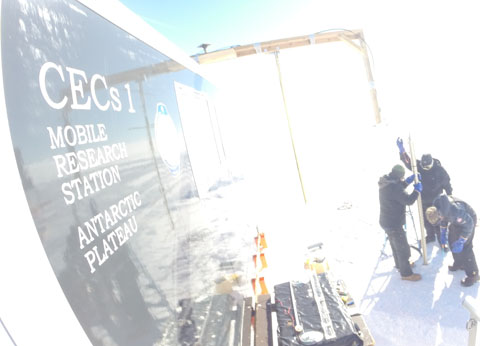 After several hours of drilling, our people took a shower in the CECs1 module and then ate chicken with curry and a salad with tomatoes.