Biologists at CECs publish a comprehensive study that examines the information contained in DNA, energy expenditure and how this is related to obesity.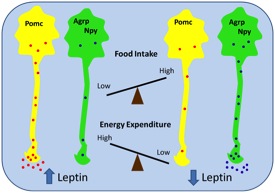 To improve our understanding of the relationship between our DNA and how much we eat, we need to know which cells are important in the regulation of energy homeostasis. Our brain possesses neurons that are in charge of regulating the amount of food we eat and it is interesting to note that even artificial activation of these neurons pushes us to eat more than we need to.
These neurons driving us to ingest food are known as AgRP neurons. Other neurons, POMC neurons, are in charge of limiting the quantity of food we eat. A fine balance between the activity and functioning of these two populations of neurons permits the correct energy balance to be maintained. But alterations in this fine balance lead to pathologies such as obesity. These neuron types are localized in the hypothalamus, a brain region located at the base of our brain, which provides access to the peripheral signals that are to be found circulating in our blood. Our fatty adipose tissue produces and secretes a hormone, called leptin. This hormone regulates the activity of AgRP and POMC neurons in an inverse manner. So, leptin, acting as a sign that energy reserves exist, silences the AgRP neurons and switches on the POMC neurons, having the resultant effect of lessening the amount of food we ingest and increasing the amount of energy we expend.
Read more...